Home / Model railroaders & model train enthusiasts - check it out!
Model railroaders & model train enthusiasts - check it out!
ShareThis
Model Railroad Hobbyist - the free model railroading magazine!
You're kidding - a totally free magazine?

That's right - Model Railroad Hobbyist is a high-quality model railroading ezine that's always completely free!
So what's the catch?
No catch. Download the magazine, burn copies to CD and give them to all your model railroading friends. Print out the articles you like and give them away to all your train buddies. Freely post anything you like from the magazine on forums and web sites as long as you link back to us.
We want you to spread the word far and wide about us!
I don't get it - how can you guys afford to do this?
Simple - the magazine is paid for completely by advertising. But before you start picturing an advertising junkyard magazine - think again.
Forget gratuitous animation or ads that get in your face while trying to read an article - they're not allowed in MRH magazine! We only take ads that are helpful and informative and that use animation discretely - with the advertiser's web site but a click away. Convenient for you our readers, and great for advertisers too. A real win-win!
For more information on Model Railroad Hobbyist Magazine, see our FAQ section. Our first issue will be released in January 2009 to subscribers (subscribing is free, remember).
Our first issue will be released January 2009, and we're a quarterly magazine (at least for now).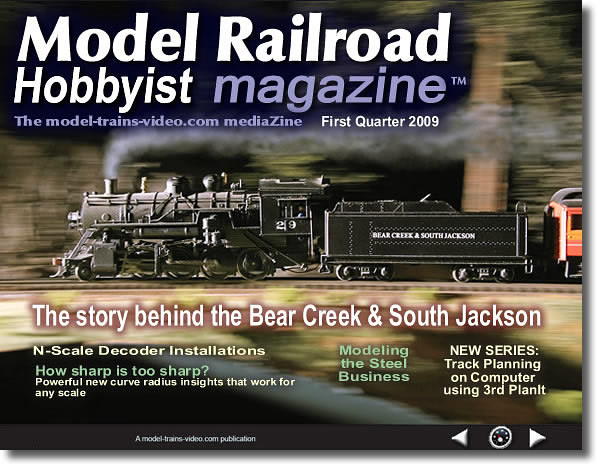 Plan on downloading every issue. And why not?

We're

always free!
THE FINE PRINT: Every article in MRH is professionally edited and checked by seasoned modelers to see that the methods and recommendations of the author are sound. As much as possible, we prefer articles that push the envelope in the hobby and that include rich media (3D virtual reality images, audio clips, video clips) to enhance the reading and learning experience.
>> Posts index