Nano-Oil by StClaire GiveAway Game 001 20120627 MRH
Wed, 2012-06-27 11:21 — Nano-Oil.com
Enter for a chance to receive:
-- a tube of Nano-Oil by StClaire as pictured, 10 weight/Grade All Purpose will ship (winner can choose another Grade ).

Shipping World Wide is provided in this Give Away.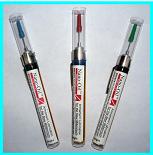 To play,
1- cut & paste last list of entries into your reply "NOT QUOTED"
2- pick a number slot between 001 and 100 + add to list in chronological position

StClaire will not wait for all 100 slots to be filled before drawing.
The winner will be selected using the number generator from www.Random.org
For product information: www.Nano-Oil.com
PayPal account: StClaireUSA@gmail.com
Good luck to all,
Christian StClaire
GSA contract award # GS-07F-0825N
-Defense Logistics/DIBBS
-GSA -GSA ADVANTAGE!
-DoD eMall
-AAFES Online Mall -BSC's (Base Supply Stores)
-NATO procurement -UN procurement
>> Posts index