Alberta Rocky and Pacific (CN Longview Sub)
Sat, 2012-08-04 00:49 — tpwalker
Today marked the first day of construction of the layout, and, my first blog entry. Here is a quick break down of what my layout is all about
-Freelanced
-Modern
-12' x 40'
-Triple deck (two scenic, one for staging)
-Point to point with hidden continuous run connection.
The layout is based on a freelance design of mine, the Alberta Rocky and Pacific Railway. In the "back story" of the railway, it was created in the early 1900's to assist with the rapid expansion of the west. Based in central and southern Alberta, the railway grew from Edmonton AB, and continued south, passing Calgary on the Western tip, through to the US border via Pincher Creek and Coutts. In the early 1970's, the line was bought out by Canadian National, and is now operated as the Eckville (Edmonton to Cochrane), Longview (Cochrane to Pincher Creek) and the Welling Sub (Pincher Creek to Coutts).
The model will represent the Longview Sub, from Cochrane to Pincher Creek. The lower level will be staging from Cochrane north (anything bound for Vancouver, Edmonton or Toronto). The layout will then enter the town of Cochrane, which has a medium sized classification yard, interchange with Canadian Pacific and a small station stop for tourist railways. The line will then continue south, stopping at small towns through the Canadian foothills, eventually ending up in Pincher Creek. The line will have a small interchange with CP's Crowsnest Sub in Pincher Creek.
The line will handle a variety of traffic, but will mostly be made up of grain and coal trains. A small amount of intermodal and other trains as run through's.
The photo is more of a "ground breaking" moment for me. I will hopefully update this blog as construction continues.
Thanks for reading!
-TW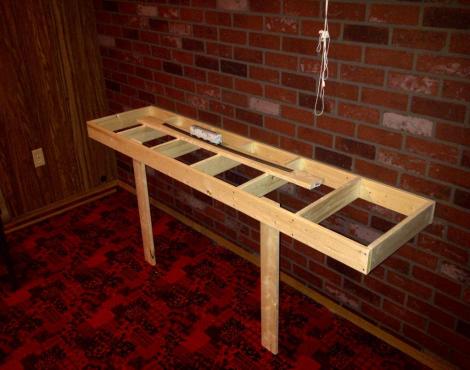 >> Posts index