The Upper Spine
Sat, 2012-07-21 05:08 — AzBaja
The lower deck is built of what I call the backbone of the layout 3 4x1 with plywood sandwiched in between them. The Backbone is the anchor for the peninsula. The spine sits directly above the Backbone.
The Upper spine is a 6" x 10' long section of wood that sits on top of Oak Uprights. Every thing is tied together with Metal - T that will have lag bolts running thought the web of the spine.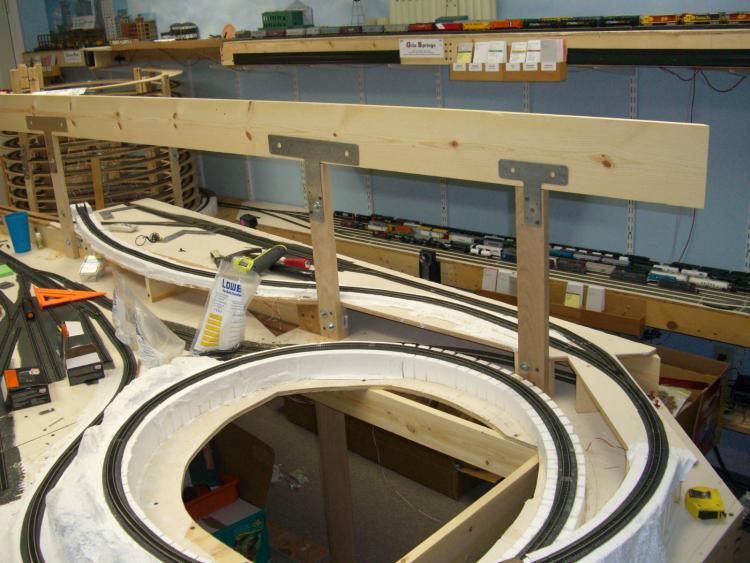 Better view of the Spine with Basin on the lower left and Green Valley on the right. The Metal - T's cradle the 10' pine plank even with out any bolts or screws in place.
Looking down the spine over Green Valley. You can see the Green Valley stage track from this angle about middle of the photo.
Look at the other end of the Spine. You can see the main as it loops past Green Valley.
This is a better view of the Metal - T's. You can see how the T's bolt into the Backbone of the lower section of the layout.
You can see Green Valley stage track too.
Quick look at the spine from another angle. This will be bellow La Grange once it's benchwork gets built.
What is Next...?
Upper benchwork will be placed onto the Upper Spine. Some place for La Grange and Tortilla Flats call home.
Other Blogs for the GS&M aka Gila Springs & Mesquite
http://model-railroad-hobbyist.com/node/8452 - The Split Helix is going in and the start of the Main Helix (Basin & Green Valley)
http://model-railroad-hobbyist.com/node/8478 - Gila Springs & Mesquite Track plans
http://model-railroad-hobbyist.com/node/8585 - The Helix
>> Posts index