What to do? (Again...)

Tue, 2012-07-17 08:59 — rblundon
Let me start this BLOG entry with this. Apparently, my wife realized the folly of her ways when she suggested that I could go around the walls of our basement with a mixed use space as a rec room and a train room. She has again asked me to have a dedicated room for my trains.
To say I was disappointed was an understatement. We all yearn for more layout space no matter how much we have. But I agreed and re-wrapped my head around the space that I have available. She always asks me why I make things so complicated, and why I don't simplify it. She also often insinuates that I don't actually like building model railroads, I just like to design them. I tell her that is not true, and that I actually am not a very good railroad planner (as evidenced by my endless cycle of posts with new designs here on MRH). I can say that I am very appreciative of all the feedback and help that I have received from my friends here in the MRH community.
With this refocusing on the space available, I wrote down the things that I was looking for in my design.
Staging
Continuous Running
Operations Focus
Classification Yard
Engine Facilities
Little hidden track
Everything on one level
The ability to follow my train
A bridge Scene
A tunnel portal or two
Scenery only areas
I came up with a concept that would be a continuous loop around the perimeter of the room with Staging on one wall and the classification yard/engine facilities on the opposite wall (theses are the long walls in the room). Then I put a town on one of the short walls and only scenery and a passing siding on the other. I put in a peninsula for a industrial branch line. This also adds interchange traffic to the classification yard and gives it a purpose. I wasn't happy with this because it seemed like the trains went from staging to the yard and back without really going anywhere, it was too short. Then I had the idea of going around the room twice. This gives me the feeling of actually going somewhere and allows for longer passing sidings. I elevated the back tracks 3" and put some tunnels in. It also gave me the ability to put in a bridge which was something that I wanted.
The classification yard is a challenge. I like how it looks, but there is no room for structures. I am contemplating taking out one of the yard tracks to give me some additional space between the yard and the loop track that runs above and behind it. Keep in mind that the switching lead will someday be the beginning of the branch line as it snakes its way up the middle of the room.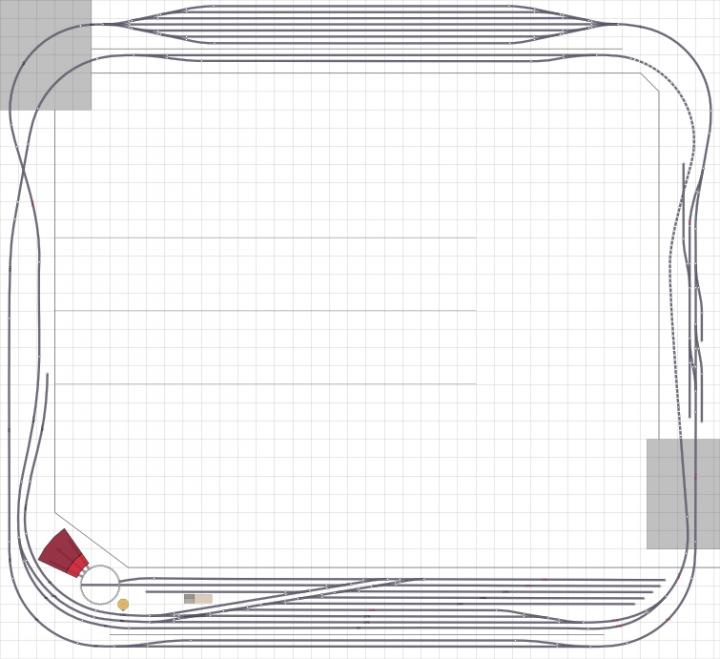 As a refresher, this is HO, the room is 216" x 236", train length will be 8', the theme is upper mid-west.
This plan isn't perfect, but it is a start to a more simple and manageable design, a single deck, no helix, and room to grow as my interests grow. The two gray areas are lift out for access areas that will have minimal scenery. The three faint parallel lines are where the branch line will go some day. I am not happy with the track arrangement on the left side yet, but is is a start. This is where I will transition heights, the other three wall all have level track.
Honestly, I'm a little embarrassed to post this plan because I feel like "that guy" right now. So to anyone who would like to give me some ideas/pointers/criticism, I would love to have it!
I am planning to start benchwork for the staging yard this week. I will be going with L girder for this with plywood/Homasote sub-roadbed.
Thanks,
Ryan
>> Posts index