N scale progress report
Tue, 2012-07-10 10:06 — Thatguy27
I finally got around to posting a couple progress pictures of my layout. I'm home from college over the summer and decided to finally start on a model railroad.
Basic Info:
N Scale
late 50's PRR
Freelanced
3'x6'
I adapted Rick Van Laar's track plan, found in the Feburary 2011 issue of Model railroader, to N scale. and added a few extra sidings for more switching potential.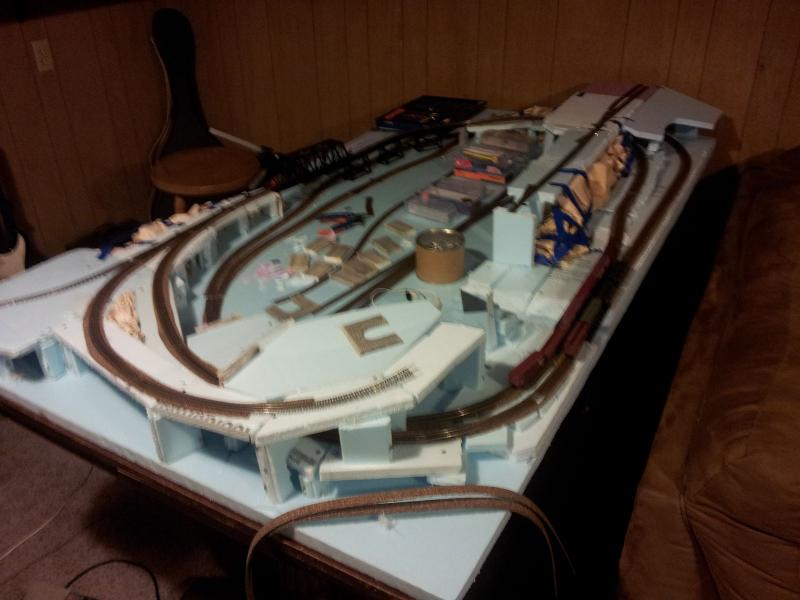 Sorry for the terrible picture... need better lighting
This is the first (and last) time I use foam for the base and risers. Its a little too flexible for my tastes. I need to build a light frame so I have room to run wires. Right now it is just on an old wood table.
Unfortunatly for me the LHS was out of code 55 switches and didn't know when he would get any in stock. so I am derailed on finishing the track work. Only need a couple sidings in the center for an Ingelnook.
The open spot in the rear is for a trestle that I will soon start building.
I will also upload some better pictures when I get time
Tips/comments/suggestions/questions welcome
Thanks for looking
-- Joel
>> Posts index