N Scale plan for review
Sun, 2012-06-24 15:15 — Peter Pfotenhauer
Here is a prototype based plan for an industrial switching area around Wallula, Washington I am considering building. It's one of three plans under consideration for a 19 x 20 foot townhouse basement space. This one is pretty strongly influenced by the Finley industrial area, Boise Cascade paper mill at Wallula, and interchange between BNSF and UP in the area, plus the WATCO shortline that runs here and switches the paper mill. Era is modern, although I had to leave out a second cold storage warehouse and feed elevator that are north of the wye off the UP main because of lack of space.
The other two plans are freelanced and focus much more on mainline operations. This plan has NO real mainline operation as the only mainline trackage is from Wallula into staging.
Here are my pros and cons. Some questions are also in the plan photo I am including.
Pros
1. Tight prototype focus on a limited area, especially at Finley and Cold Store locations
2. Lots of industrial switching and interchange.
3. includes modern shortline for interchange and increased interest.
4. Simple sincere track plan.
5. Benchwork should be easy to build.
6. Will allow focus on structure modeling.
7. Manageable construction for 1 person with somewhat limited modeling time. Some elements of plan, especially at bottom, do allow for builidng in stages or adding on more areas after initial plan is up and running.
Cons
1. Lack of any meaningful mainline operation. Will operators have any sense of trains "going places?"
2. Especially the right side of the plan seems very wasteful.
3. Potential reach issues in key locations for operators (Benchwork set to be at 50 inches).
4. Wallula area will require realistic backdrop to appear like prototype.
5. Will there be enough work to keep multiple operators busy?
6. Is the prototype "worthy" of dedicating so much space to so small a slice of railroading.
7. Is benchwork in bottom RH corner high enough and narrow enough to traverse wall over insert fireplace without inviting issues when fireplace is in use?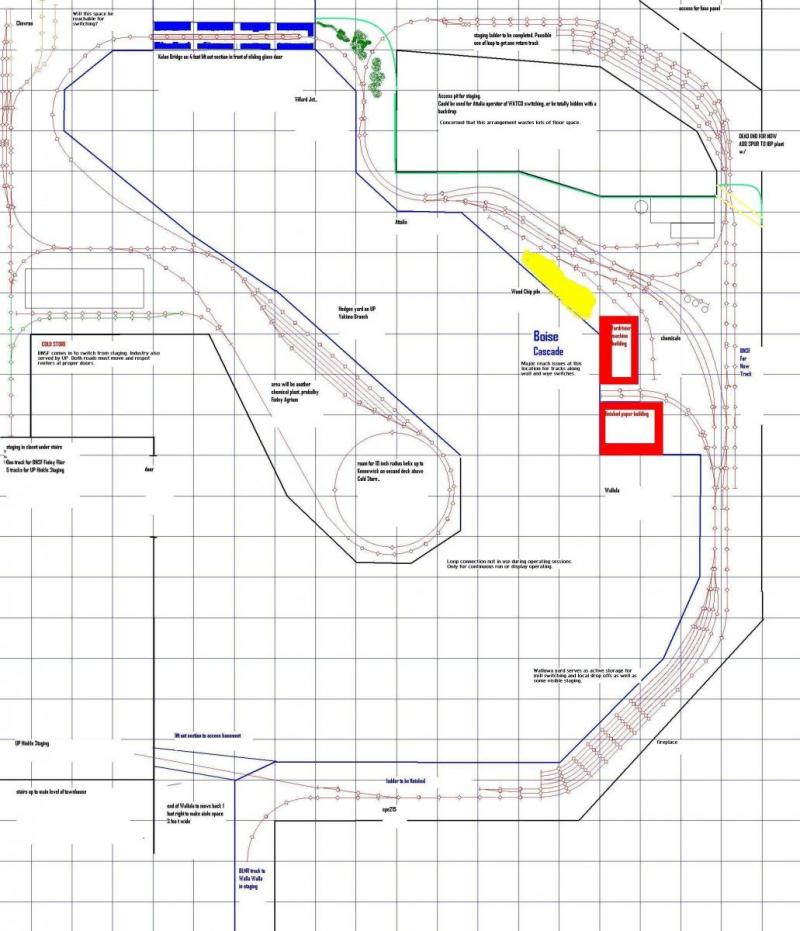 >> Posts index